Monograms for Weddings

A Hebrew monogram becomes the symbol of the couple. Monograms such as this one are used on invitations, programs, thank you notes, ketubot, and more.

Below is a blessing for the home that I created for our good friends, Yoni and Basya Meira.
The monogram is in the bottom right of the chamsa (hand). The bud is made from the Yud of Yoni and the Bet and Mem of Basya Meira.
The Koof of their last name is the stem.
The leaves are Ayin and Yud of Od Yeshama, the song that makes the chamsa.

Powered by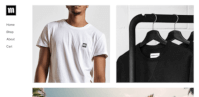 Create your own unique website with customizable templates.